Quality Policy
We are determined to-
make everyeffort to satisfy our customers' needs;
set a quality objective and strive to achieve it for the practical implementation of the policy and verify its achievement;
comply with all relevant legal requirements;
provide all personnel with adequate training and education to ensure their competence for their duties; and
periodically review this Quality Policy and relevant regulations thereof, and the management system for the continuous improvement of the quality management system.
Kashiwa Co., Ltd.
President & C.E.O.
Yoshiro Yamashita

ISO9001 certified
Since 2000, Kashiwa has been certified according to ISO9001 which is the international standards for quality management system. Our certification has been updated to ISO9001:2008, and in 2017, to ISO9001:2015 which is the latest version of the standards.
We are determined to keep improving our quality management system to fully satisfy our customers' needs.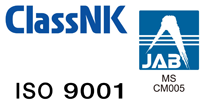 Certification No.
00 – 235
Applied standards
ISO9001 : 2015 / JIS Q 9001 : 2015
Applicable products
and scope of application
Design, development, procurement, inspection and tests of –
Foam fire-fighting system / Water-based fire-fighting system / Gaseous fire-fighting
system / Inert gas system / Inert gas generator system / N2 generator system and other business pertaining to them
Certification body
Nippon Kaiji Kyokai (Class NK)
CE marking MED Module D (product-quality assurance) certified
CE marking affixed on a certain product shows that its compliance with the applicable standards or regulations is guaranteed by its manufacturer or supplier.
MED, Maritime Equipment Directive, is issued by the European Union within the framework of CE marking, for materials and equipment for marine use.
Module D approval certificate is issued to certify that the quality system for the product(s) is adequately implemented and operated.
Certification No.
SMS. MED2. D / 28598
Applicable products
Local fire-fighting system for machinery room / Inert gas system /
Inside air high expansion foam fire-fighting system for machinery and pump room /
Sound/thermal insulation materials for marine use
Certification body
Bureau Veritas