Recent years, congestion in major ports with large crude-oil tankers, chemical tankers carrying various dangerous cargos, and LPG/LNG tankers poses increased risk of fire.To protect these vessels from fire, a number of fireboats, tug boats, and escort boats equipped with high-performance external fire-fighting systems are always on duty in a port.Our system has been delivered to more than 2,000 boats so far.
Fire-fighting Systems
To help those special ships perform highly difficult fire-fighting operation in a safer manner, we provide reliable fire-fighting systems.
Water Monitor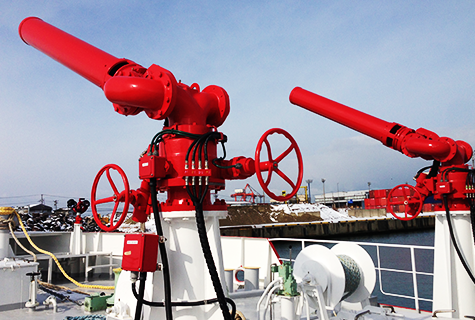 Our water monitor have 500 to 25,000 L/min. of discharging
capacity depending on the size.
The size is determined and selected by the required
discharging capacity.
Sliding Tower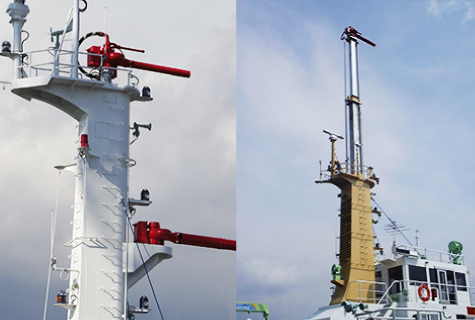 The sliding tower, either motor- or hydraulic-driven, is
purposed to discharge fire-extinguishing agent from higher position.
The tower slides up as shown on the picture above to achieve
height enough to efficiently discharge water or dry powder.
Dry Powder System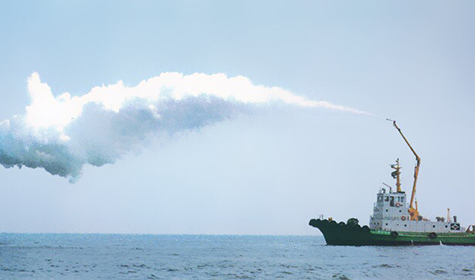 Tug boats and escort boats that support or pilot LPG/LNG carriers carrying dangerous cargos are required by the rule to be equipped with dry powder system.
A discharge nozzle mounted on the sliding tower gives effective fire-fighting performance.
Other Systems
Oil Dispersion System
---
This is the system to spray the dispersant (surfactant) to break spilled oil into small droplets for promoting natural purification process. Special sprayer is used to atomize and spray the dispersant without diluting with water. We have various types of the sprayers available according to you needs.
Salvage System (Water Removal System)
---
Such serious accidents as stranding or collision could incapacitate the ship for its ability to pump out flooding water. That is where the salvage system comes in. Fireboats fitted with this system come for help to pump out flooding water.
About Fireboat and Tug Boat/Escort Boat
Fireboat
---
This type of boats are specially designed for fighting fires on ships and aircraft on sea as well as building on the shore, which could include such multiple and complicated tasks as water rescue, pumping water out from flooded ships, disposition of spilled oil, and distribution of large amount of water to onshore pumpers. They are owned and operated mainly by local governments and the Japan Coast Guard.
To carry out their duties, they are provided with a fire pump, water monitor with sliding towers, dry chemical powder system for oil fires, as well as oil dispersion system.
Water monitor discharge sea water pumped and supplied by a pump driven by its dedicated engine or main engine for propulsion. Fire-extinguishing agent can be mixed with the water for fighting special fires on tankers.
Other than water monitor, they are equipped with water distribution ports to supply water to onshore fire engines and protection spraying apparatus to guard themselves from fires.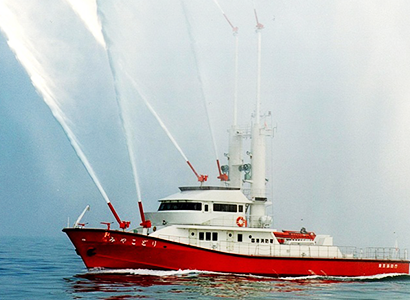 Our products for fireboats / Water monitor / Sliding tower / Oil dispersion system / Salvage system / 
Tug Boat/Escort Boat
---
Although they are relatively small in size (approximately 200t), with a very powerful engine (over 3000hp) onboard and a propeller that can horizontally swivel round, they are capable of pulling and towing large vessels in narrow areas in a port, guiding and supporting them to safely reach and leave the shore.
Many of them working in ports in Japan are equipped with the water monitor so that they can promptly tackle unexpected shipboard fires.
they are carrying out a lot of tasks and duties to ensure maritime safety, in particular safety in ports, including escorting vessels, watching over loading and unloading, fighting fires, and cleaning spilled oil.
Our products for tug boats / Water monitor / Sliding tower/ Dry powder system / Oil dispersion system /